Defence against unauthorised cryptocurrency mining
I've discussed Ransomware Defence in Depth and in this post I'm discussing how to defend in depth against another pesky issue Unauthorized Cryptocurrency mining.
Unauthorized cryptocurrency mining is alongside ransomware one of the major outcomes bad guys gaining access to your cloud resources are looking to achieve.
I'm going to focus on Google Cloud as that is the Cloud I know best these days but the other large Cloud providers have equivalent defences to the ones I discuss here.
Firstly you need to consider how crypto mining software gets onto your compute resources .
Google cloud discusses exploitation of GCE instances in their November Threat horizons report which provides insights into the scale of the problem.
The table below is taken from the report and lists the exploited vulnerabilities in Cloud Instances
The report also details how time critical it is when a cloud instance is compromised :
"The shortest amount of time between deploying a vulnerable Cloud instance exposed to the Internet and its compromise was determined to be as little as 30 minutes. In 40% of instances the time to compromise was under eight hours. "
Where timeline information was available, it revealed that in 58% of situations the cryptocurrency mining software was downloaded to the system within 22 seconds of being compromised, the figure (taken from the report ) below illustrates this.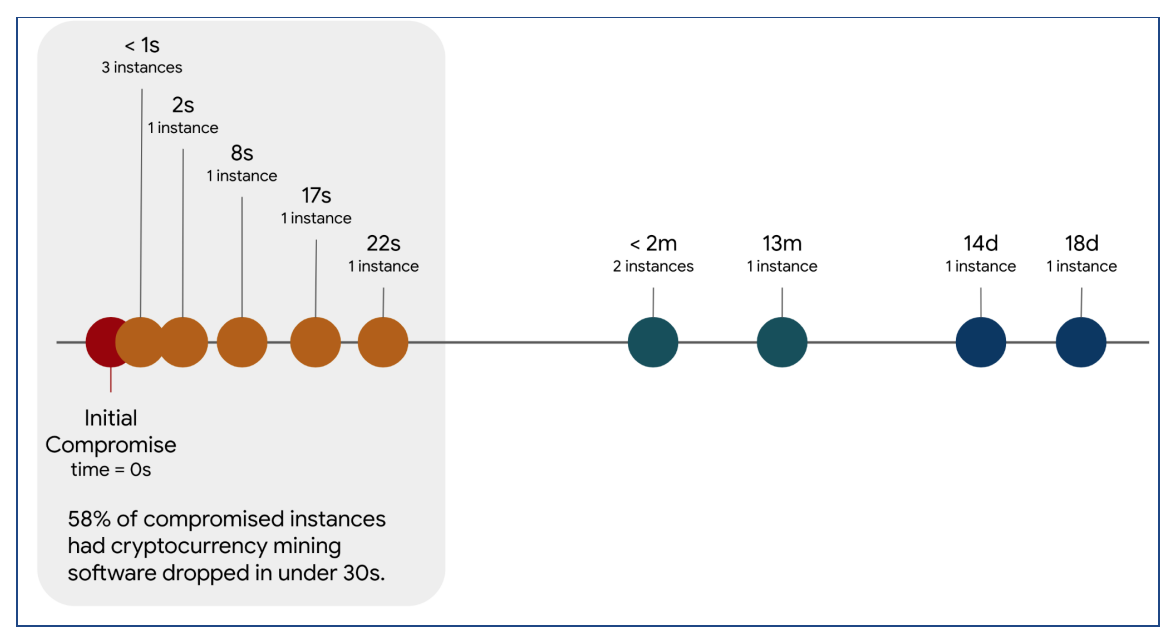 There is no guarantee that protections you put in place to prevent exploitation of your cloud resources and with that the accompanying alarming bill means that you will not suffer a breach! It is however , almost guaranteed that if you do not put any protection in place, the probability that you will be subjected to a breach and suffer the consequences is very high.
As with all good security practices, defence in depth is required, thus I'm going to discuss 12 actions you need to do as a very minimum to protect your cloud resources against the threat of unauthorized cryptocurrency mining.
Posted on Jan 7, 2022 at 13:42